Official Rulebook for Nation Wars Part 3!
NW3 Rules
1. NW3 is July 17
2. Real guilds only.
3. Team Nation = guild name. [Ex. = Team China]
4. Add #NW3 in the guild description.
5. Players must be born or living in the nation they play for.*
6. Pirates can have 1 player per nation.
7. Nations can have a 2nd fun team. [Team Canada Fun] **
* Nation leaders are responsible to check player nationality and location. All players must verify location if asked.
** No "fun" teams will show up on NW3 Championship poster.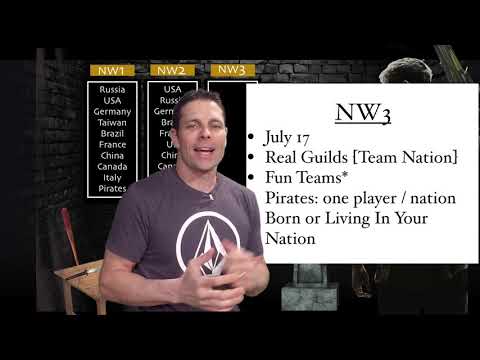 https://youtu.be/e07dwhY3yaE
Welcome all to Nation Wars Part 3!!
The Rules are simple and easy!
If your Country have a Nations Captain already you will find them at the subforum for Country recruiting!
You can get in Touch with your Country Leader really easy, every Country will have an own threat!
If your Country dont Show Up Till the 20.May 2019 there, your Country hast No Team at the Moment!
In this Case please PM me
@buchizombiebreath
I will Help you to come further to build Up your Team and all other Leaders will Help with your recruitment!( Anyone know anyone who know anyone who is Portugiese,... F.e),
Last Nation Wars WE worked all together very Well!
If you wanna be the Captain i need you or your co Captain in LINE ,
WE HAVE THE LEADERS-CHAT THERE AND ONLY THIS WAY YOU CAN GIVE YOUR TEAM ALL CORRECT ANSWERS IF THEY HAVE QUESTIONS!( WE will Not discuss in the Forum, Just the Leaders themself in a small group!)
I hope you all have fun and get some new Nations in Board!
Last time we started with 22 Nations!
That was a great effort, but we want the whole World!!
I will answer all questions ( please PM!!!)
Soon as possible!!
Happy recruiting, organizing and at least slaying!!
Greetings buchi
This discussion has been closed.
Categories
339

Welcome

21.8K

The Walking Dead: No Man's Land

4.6K

Bugs & Issues

1.5K

Off Topic