Exchange, Sell and Send Tools Option for the Game!
Exchange, Sell and Send Tools Option for the Game
@Lexia
@Vane
Here is another idea of mine, how to extend the tool system, that both the players and NG benefit from it. Since we can't get rid of the tools I try to make the best out of it. As the title already says: it is about exchanging, selling and sending tools. I like to visualize things rather than just talk about them, so I've made some pictures of what the whole thing might look like.
I would do this with a number of buttons in the toolbag. Since there is some empty space.
Lets start with exchanging tools.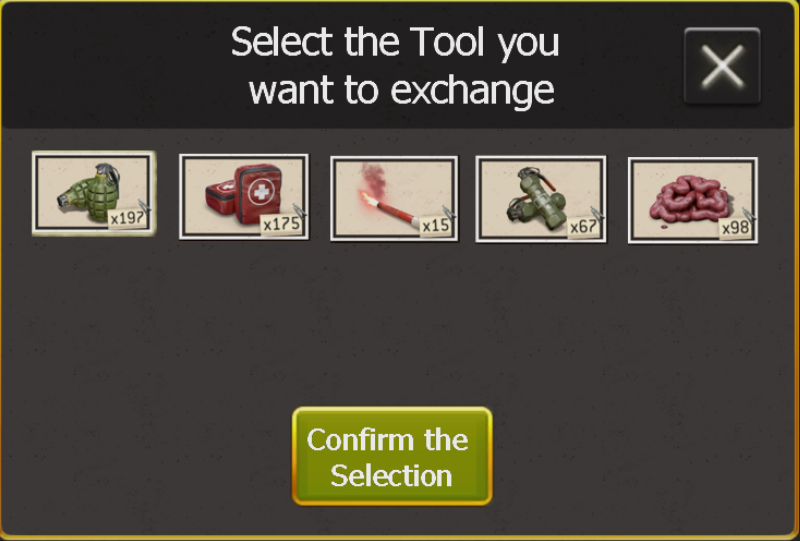 My idea is that a pop up window opens where you are able to select the tools you would like to exchange. To secure the whole thing against missclicks with a confirmation button. I'd personally like to have that since im always unbalanced in the amount of tools I have. I very rarely use Gore for example and I would like to exchange it into something useful. I farm them (Nightmare Distance, Dailys, BM etc..) or buy them so I want to have the opportunity to
do what I want with my hard earned tools.
Here you can see how the selection could look like with a simple green and red border after you selected them.
Red is the tool you want to exchange into green. Since NG needs to profit from this atleast a little bit I took
a fee of 15 Gold (could also be less, for example 10 Gold).
And last but not least another confirmation button to secure another missclick (TWDNML Players like these I guess?
)
And a continue button with the successful swap screen.
Now I'd like to introduce the sell tool button. You not really have a good use for tools at the moment and like to sell them
back to NG since you need gold more at the moment? No Problem...
Here you can see how the selling could happen. Select the amount of tools you would like to sell to get your Gold.
Since one tool normally equals 50 Gold that is the amount I took. In the picture you can see a simple select box where you
can choose "how many" and "which tool" you pick to sell. The amount of gold increases with
every additional tool that comes along. (Example 1 tool 50 gold, 2 tool 100 gold, 3 tool 150 gold etc....)
As a last idea I present: Sending tools to guildmates.
In this example picture you can see how it could look like. First of all you pick the Player you want to send tools. On the hand side
you can see a confirmation which player you picked. Afterwards you select the tool you want to send to "Player XY".
In this example "Blast Nades". (Confirmed by a green border and a button picture of the tool you choose).
In the next step you select how many tools you would like to send to "Player XY".
And to make it tasty for NG you have to pay a little fee here as well. (Example 10 Gold).
I see this as some fee you also have to pay for changing your badges for example.
Of course, you could use this again to make more events for the weekend or Monday/Tuesday.
For example: Free exchange, free sending... etc...
All in all, this benefits the players as well as NG. Since you can help your Guildmates out that are maybe low on tools and
you don't want to send them to a lower tier guild if you in a big guild family. Or you don't want to get rid of them. (all examples).
Furthermore this helps FTP, players that needs gold etc... (Selling your daily farms if you not participate in GW or not being in
a hardcore mode).
There is even more options for this. For example instead of only "sending tools" you could "TRADE" tools with your guildmates. Could be realised by some acception screen.
For example: Player XY wants to send you 3 Gore for 3 Flare. Or even uneven trades. Player XY wants to send you 1 Flare for 2 Blast Nades.

Do you accept this over? YES ( ), NO ( ),
                                         Continue!

Thanks.
Comments
Categories
339

Welcome

21.8K

The Walking Dead: No Man's Land

4.6K

Bugs & Issues

1.5K

Off Topic