GIRL POWER 3.0 (Information in English)
Girl Power is back! Girl Power 3.0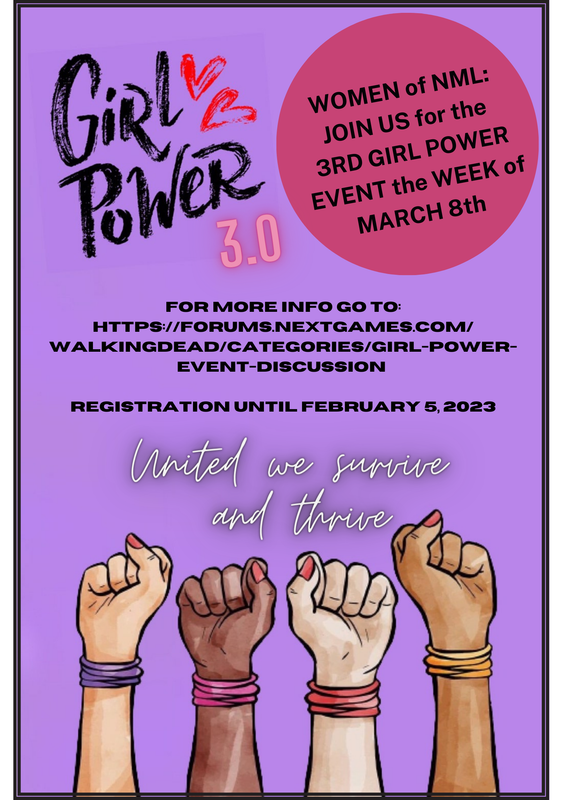 To all NML players that are female or identify as female: United we survive and thrive! Violence against women is not a game! For the third time, we want to celebrate International Women's Day on March 8, with an event for all women in NML organized by women in NML. No matter where you come from, which language you speak, how many stars you get in the Challenges, or which level you are: all women are welcome to join this event during the week of March 8! We will come together in guilds created for this event and play one Challenge with only women to show our unity.
To register for this special event, please fill in this google form:
https://forms.gle/36gWPpMu18DRgvxW7
Deadline for registering: February 5, 2023.
We will be using LINE (a free messaging platform) as the main channel of communication for this event. You can also reach out to our event admins directly through LINE:
In English:
English: Dr.MaximumSlayage (LineID: polismaxima), Mystic (LineID: Mystic-31), Selene (LineID: seleniedaweenie), Calamity Jane (LineID: calamityjane55), Sala (LineID: sparkysmom), Angelica (LineID: giorgina93), Tara (LineID: tara_ich)
For other languages:
Deutsch: Tara (LineID: tara_ich), Andrea (LineID: andrea9612), Dr.MaximumSlayage (LineID: polismaxima)
Français: Oreille d'âne (LineID: oreilledane)
Español: Marisa (LineID: Arya-88), Mari (LineID: Cherrymv07)
Polski: BabaJagna (LineID: BABAJAGNAPL)
Português: Cintia (LineID: abr_cintia)
русский: DiZnoYa (Line ID: diznoya, Telegram ID: Diznoya)
Italiano: Angelica (Line ID: giorgina93)
We have admins covering English, Spanish, Portuguese, French, Italian, German, Russian, and Polish.
Don't see your language represented and want to get involved? Contact us through LINE!

GIRL POWER Organizing Committee
United We Survive and Thrive
We want to thank Next Games and Lexia for their support of this event!
Comments
Categories
333

Welcome

21.7K

The Walking Dead: No Man's Land

4.6K

Bugs & Issues

1.5K

Off Topic