Badge recipes - Results from crafting 127 badges
I made a post earlier about the distribution of traits on badges (see here:
https://forums.nextgames.com/walkingdead/discussion/38691/badge-trait-distribution)
. In that discussion it popped up that the recipe when crafting the badge would influence the type of badge received (Damage / Critical Damage / Critical Chance / Health / Damage Reduction).
@Grady
chipped in with a theory on the different recipe combinations, based on 13 different recipes. When I run the figures I end up with 15 different recipes.
So I crafted most of my remaining fragments - 127 pieces - and noted the results, which can be seen below. Now, as there are 15 groups it means there will be a lot of random variation in the single groups. Still, as I've exhausted my stockpile of components the amount will not increase quickly so I decided to post this anyway now.
So here is the table:
As you can see, only 5 recipes have provided Damage Resistance badges at all. Especially recipes 4 and 9 seem interesting, with high percentages and at least 10 tries.
So if you are interested in crafting damage resistance badges, try the following combinations (in priority order):
2 metals and any 2 other (but each different) components
or 3 metals and any other component or 4 metals
or 3 chemicals and any other component
or 2 edibles and any 2 other (but each different) components
or 2 cloth + 2 chemicals
Based on this a simple rule of thumb is to use at least 2 metals and 1 each of other components.
So you may wonder, what are the recipes? Based on
@Grady
's suggestion, I have grouped the possibilities into 15 groups. This is based on some assumptions;
- there is no difference in exakt ordering of components, i.e. AABB = BBAA = ABAB = BABA
- This results in 35 different combinations
- Additionally, it is assumed that at least 3 components of the same kind means only that component is considered. I.e. AAAA = AAAB = AAAC = AAAD
- On the same logic, it is assumed that at least 2 components of the same kind together with 2 different other components means that the main component is considered. I.e. AABC = AABD = AACD
- This ends up with 15 different recipes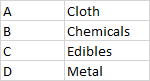 Ingame username: Jubjab
Comments
Categories
343

Welcome

21.8K

The Walking Dead: No Man's Land

4.6K

Bugs & Issues

1.5K

Off Topic